Venerable Master Hsing Yun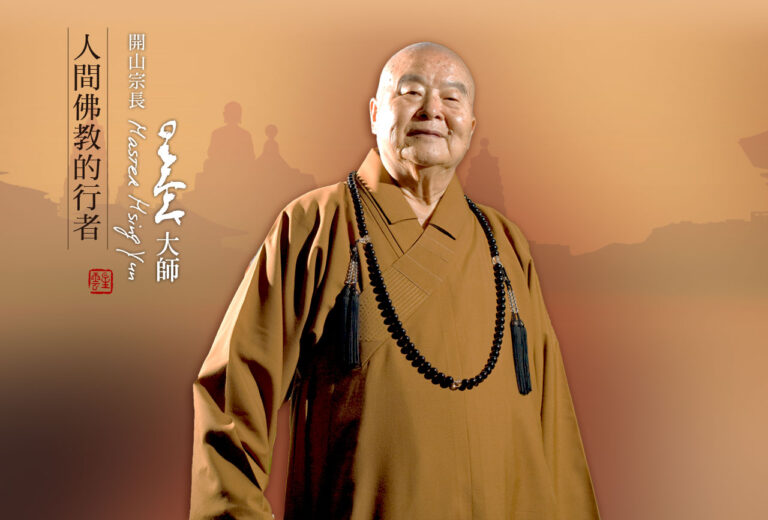 Venerable Master Hsing Yun was born in 1927 in Jiangdu, Jiangsu Province, China. At the age of 12, he was tonsured by Venerable Master Zhikai in Qixia Temple, Nanjing, with Dajue Temple in Yixing, Jiangsu, as his ancestral temple. Venerable Master Hsing Yun studied at Qixia Vinaya College and Jiaoshan Buddhist College. Later on, he became the 48th generation lineage holder of the Linchi Chan school. The Venerable Master has served as the principal of Baita Elementary School, and Abbot of Huazang Temple in Nanjing.
In the spring of 1949, Venerable Master Hsing Yun arrived in Taiwan. In 1953, he established organizations such as the Buddhist Chanting Association of Yilan and the Buddhist Youth Choir at Lei Yin Temple in Yilan. His efforts laid the foundations for his subsequent Dharma propagation endeavors. In 1967, he founded the Fo Guang Shan (Buddha's Light Mountain) Buddhist Order, with the objectives to propagate the Dharma through culture; to foster talents through education; to benefit society through charity, and to purify people's minds through spiritual cultivation. Venerable Master successively established over three hundred temples worldwide, among which Hsi Lai Temple in the United States, Nan Tien Temple in Australia, and Nan Hua Temple in South Africa, being the largest in each country.
Moreover, to foster talents for Buddhism, Venerable Master established several Buddhist colleges such as Shou Shan Buddhist College, Chinese Buddhism Research Institute, and sixteen Buddhist Colleges—Fo Guang Shan Tsung Lin University and those in Hong Kong, Malaysia, South Africa, and so on. He also established Chih-Kuang Commercial and Industrial Vocational High School, Pu-Men Senior High School, and Jiun Tou Elementary and Junior High School. In addition, five higher education institutions were also established such as Nanhua University in Chiayi, Taiwan, Fo Guang University in Yilan, Taiwan, Hsi Lai University (now University of the West) in the United States, Nan Tien Institute in Australia, and Guang Ming College in the Philippines, the integration of these five marked the international "Fo Guang Shan Five-in-One University Consortium."
Venerable Master was the first to propagate the Dharma through radio and television. In 1957, the "Buddhist Voice" Program was broadcasted on Yilan Ming Pen radio. In 1979, the Buddhist program, "Nectar" was aired on Taiwan Television. Also, the "Hsing Yun's Chan Talk" was broadcasted on North American Satellite Television. In 1995, Venerable Master founded the Fo Guang Yuan Art Gallery and Tea Houses, integrating culture, arts, and leisure. Later on, 24 art galleries were established worldwide. In 1998, the Buddha's Light Satellite Television Station (now Beautiful Life Television) was established. In 2000, The Merit Times newspaper was founded.
Established in 1957, the Buddhist Cultural Service Center, later renamed Fo Guang Publishing House, has published various Buddhism series books and audiovisual materials. In 1977, the Fo Guang Tripitaka Editing Committee was founded. Currently, the Fo Guang Dictionary of Buddhism, Agama Canon, Chan Canon, Prajna Canon, Pure Land Canon, Lotus Canon, Yogacara Canon, and Jataka Canon have been published. In 1979, the Universal Gate Magazine was published, later remade into the Universal Gate Buddhist Journal in 2001 (itself renewed in 2016 as the Humanistic Buddhism: Journal, Arts, and Culture). At the same time, the Collection of Contemporary Buddhist Works, a compilation of Cross-Strait Master's theses and Ph.D. dissertations on Buddhism was published as the 110-volume Chinese Buddhist Academic Series. In 2013, the 20-volume Encyclopedia of Buddhist Arts was published. In 2014, the 10-volume Fo Guang Dictionary of Buddhism Revised Edition, 365 Days for Travelers: Wisdom from Chinese Literary and Buddhist Classics, and A House Full of Jade and Gold—a teaching resource for Humanistic Buddhism—were published.
Venerable Master's works are numerous, including the Biography of Sakyamuni Buddha; Hundred Sayings Series; Fo Guang Textbooks; Modern Thoughts, Wise Mentality; Collection of Papers on Humanistic Buddhism; One Hundred Lessons on Monastery Languages and Affairs; Buddhist Affinities Across 100 Years; Hear Me Out: Messages from a Humble Monk; Humanistic Buddhism: Holding True to the Original Intents of Buddha; and The Complete Works of Venerable Master Hsing Yun.
After retiring as Head Abbot of Fo Guang Shan in 1985, the Venerable Master continued promoting the Dharma worldwide. In 1991, he founded the Chunghua Fo Guang Buddhist Association. On May 16 1992, he inaugurated the Buddha's Light International Association (BLIA) World Headquarters in Los Angeles, taking the helm as its president. Today, over 170 chapters are established worldwide, enabling "the Buddha's Light shining over three thousand realms, and the Dharma water flowing continuously through the five continents."
Over the course of his illustrious life, Venerable Master has been awarded honorary doctorates from numerous universities worldwide, such as the University of Hong Kong. In 1992, he was acclaimed as the Permanent Honorary President of the World Fellowship of Buddhists. In 1995, he was awarded India's national Buddha Ratna Award. As evidenced by his accomplishments, Venerable Master's dedication to the systemization, modernization, humanization, futurization, and internationalization of Buddhism can be considered astounding!